Born and raised near Tacoma, Washington, native-son Mike Kreidler has served the people of Washington in elected offices and appointed posts for more than 30 years. From the boardroom of the North Thurston School District to the state capitol and halls of Congress, Mike has represented our state with efficiency and dedication, also managing a professional career in optometry.
Kreidler has distinguished himself in issues ranging from health care and the environment to banking and insurance. He was elected Washington State Insurance Commissioner in November 2000, taking office the following January. He was re-elected in 2004 and 2008.
Insurance Commissioner
As Insurance Commissioner, Mike Kreidler is responsible for regulating the $30 billion insurance industry in Washington State. Accomplishments during his first three terms:
Cut excessive rate increases by insurance companies, saving auto and homeowner consumers over $310 million
Successfully fought repeated attempts by big out-of-state insurance companies to take away consumer legal protections
Helped individual consumers recover over $160 million on their insurance policies when payments were delayed or denied
Protected women by requiring that contraceptives be included in prescription drug coverage
Blocked the attempt by Premera Blue Cross to convert to "for profit" status
Brought transparency and regulatory oversight to the individual health insurance market
Joined with the Governor to pass legislation creating a consumer friendly health insurance exchange to bring about health care reform in 2014
A Health Care Provider
Mike Kreidler earned a Doctor of Optometry degree from Pacific University in Oregon and a master's degree in public health from UCLA. As an optometrist, he worked for 20 years for Group Health Cooperative of Puget Sound in Olympia.
Legislative Leader
Serving in the Washington State legislature as a Representative and Senator, he distinguished himself in matters related to health care and environment. For 16 years, he was the chair, vice-chair or ranking minority member of the standing committee addressing health care policy issues. Major legislation on generic drugs, respite care, HIV/AIDS, health care cost containment, foster care, day care and the natural death act were enacted through his leadership. His committee experience included financial institutions and insurance, agriculture, ecology, energy, law and justice and ways and means committees.
U.S. Congressman
As a freshman in the U.S. Congress, Kreidler won a coveted seat on the House Energy and Commerce Committee and the subcommittees on Health and the Environment and Energy and Power. He was actively involved in matters addressing health care access, affordability and quality. Kreidler was involved with issues of food safety, violence against women, Medicare reimbursement rules, improved mental health services and expedited Superfund cleanups.
Serving his Country
Kreidler retired as Lieutenant Colonel in the Army Reserves with over 20 years of active and reserve service. In January 1991, his hospital reserve unit was called to active duty in January 1991 in support of Desert Storm and he was assigned to Madigan Hospital in Washington State.
Health Administration
President Clinton appointed Kreidler in 1998 as Director of Region 10 of the U.S. Department of Health and Human Services. Here he was an advocate for the state's participation in the Children's Health Insurance Program that expanded coverage for children.
Mike's Family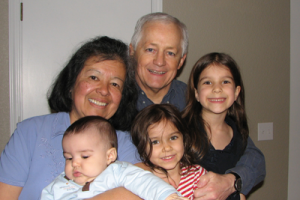 Mike's wife, Lela, is a former teacher who is now retired from the North Thurston School District. They have been married over 40 years and have three children, Kelli, Michael, and Lora. They also are proud grandparents of Kendell, Helene and Griffin.